ABOVE GROUND POOLS: AFFORDABLE FUN
September 15/2020
Asking the family how to spend a summer together can be a challenging proposition. Varying opinions and a slew of other factors can make for a tough decision. Should the family go on a road trip, hit the beach, or maybe go camping? What if the choice of where to go and what to do was made a little bit easier? What if the only question you had to ask was: "Who wants to go in the pool?"
Year after year we hear comments from customers like, "Our pool was the best purchase we've ever made," or, "I don't know what we would do in this heat without a pool." Investing in an above ground pool not only affordable, but guarantees some fantastic memories.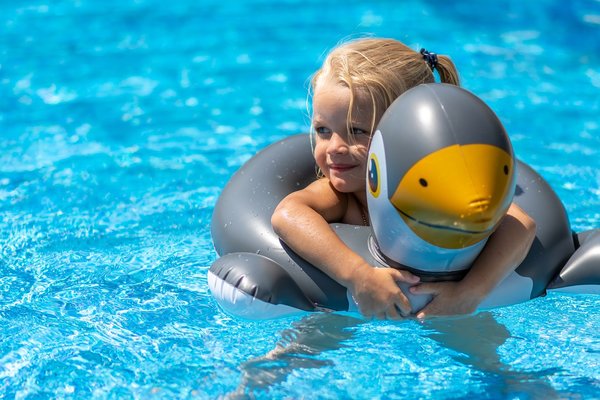 Consider a Trade Off
Most of us can dream up the perfect backyard complete with an infinity pool, swim up bar, pool boy and palm trees. But if an in-ground dream pool isn't in the budget we have plenty of options to help you enjoy the perks that come with owning a swimming pool. Above ground pools are available in a variety of shapes and sizes to fit almost any yard.
Putting off a family vacation for a year and investing in an above ground pool could actually be the change in lifestyle that you've been waiting for. No more long weekend traffic. No more rushing to catch a flight and standing in airport line ups. Instead, you can catch some rays while floating on your giant inflatable swan any day of the week. Above ground pools are extremely affordable and if planned properly can turn an average backyard into the perfect get-away.
Where to Begin
Where do you begin the journey of buying an above ground pool? Roxann, who purchased her pool just a couple years ago, says, "We're so glad we purchased our pool from you."
You guys helped the Pope family through the entire process from the initial purchase through the installation stage. "All of the staff are very knowledgeable and helpful! They're just an email or phone call away for questions and they always make sure you get the information you need," says Roxann. Purchasing your above ground pool from a retail dealer like us allows you to have your questions answered, provides peace of mind, and guarantees a relationship to help you before, during, and after your pool is installed.
Helpful Tips
Some offers these helpful tips for those who are thinking of purchasing an above ground pool.
"Think about pool placement," says Lindsey. She continues, "Marking out different sizes in the yard helps to determine the size you need."
She also recommends thinking beyond the pool itself and how you can turn the entire backyard into a "relaxation staycation."
Finally, give some thought to decking. Building a deck around the top of the pool can make access easier and create the look and feel of an in-ground pool.
From simple to elaborate, and from small to grandiose, we are here to help you choose the best pool for your family. We're your backyard experts. Contact our sales team today or visit our Langley showroom.
---
---