8 WAYS TO WARM UP YOUR PATIO
July 15/2020
Autumn is one of the most beautiful times of year. The air is fresh, the falling leaves are changing colour, and of course the temperature drops. Don't let the cool weather deter you from enjoying your patio and outdoor space this fall. The words of John Howard Bryant are so true, "Autumn...the year's last, loveliest smile." Here are the perfect items to make the most of your backyard this season.
1. Fire Table. A fire table doesn't have to be expensive to be enjoyable. Even an old fashioned wood burning fire pit will draw everyone to its warmth. A fire is often the place where friends gather around to talk, to sing, or just to sit. Whether it's propane, natural gas, or a wood burning fire table or a fire pit is an investment you won't regret.
2. Candles. The flickering flame of candles quickly create a romantic and enchanting setting. Little hopes of light dancing in the night bring warmth to almost any environment. Scented candles or even simple tea lights are an affordable way to make your patio an inviting get-away.
3. Blankets and throws. Embrace the cool air without retreating indoors. Having a variety of thick and comfortable blankets and throws can be the difference between peacefully relaxing or just bearing the cold. A few cushions and pillows aren't a bad idea either.
4. Umbrellas. Patio umbrellas can serve several purposes including shelter from the drizzle, privacy from neighbors, and ambiance. Never under estimate how an umbrella can transform a bare corner of the garden into a private hideout.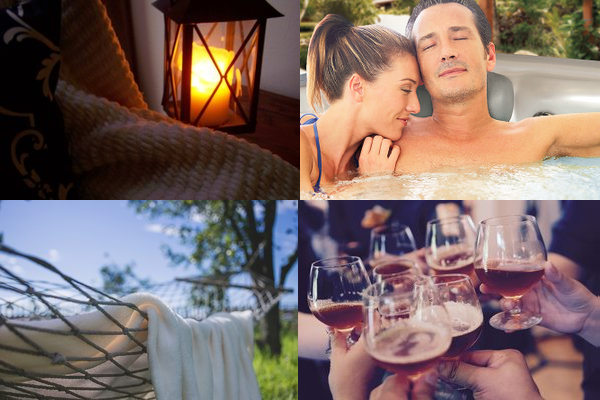 5. Lighting. Lighting is everything when night falls. There are plenty of choices when it comes to how you will light up your space. Hanging string lights on trees or doorways, using lanterns or solar lights, or placing unique specialty lighting through out the yard can highlight specific areas or help to make your space feel larger than it is. Lighted planters, LED illuminated globes, and transparent lighted plastic furniture are among the latest trends.
6. Gazebos. If you really want to extend your outdoor living space year round, a gazebo is one of the best ways to bring the comforts of indoors outdoors. A cozy place that is protected from the elements is inviting even on stormy days. The term gazebo can apply to a number of different structures that offer protection. Some gazebos are fully enclosed, while others may be more open with only a roof overhead. Whatever the case, an area to stay dry and warm affords the opportunity to keep patio furniture dry, to share a meal outside, or to just sit in silence without getting wet. Hanging curtains on pergolas or in gazebos can also help to retain heat when things get chilly.
7. Patio Heaters. If the blankets and ambiance aren't enough to warm your bones a patio heater will surely do the trick. There are a number of types and styles of patio heaters ranging from simple electric heaters to gas and propane units that throw a lot of heat. Crank it up and bask in the heat!
8. Hot Tub. Needless to say, a hot tub is one of the best ways to take in a starlit sky without losing your core temperature. It's a place to converse, to bring family together or just unwind from a hard day. In addition to the many hydrotherapy benefits, another benefit is that you can get outside and take in the fresh air all year round.
Indulging in some additional comforts can often make for an even better experience both for yourself and your guests. Keeping a supply of cozy slippers, sweaters and jackets, and some warm drinks will go a long way to warm up your autumn evenings. Give some though to your patio because you might be missing out on the best season of the year.
---
---