Buying guide for the first time pool buyer
November 20/2018
There is nothing better than a pool on a hot summer day, enjoying time with friends and family, having a few cocktails or beers poolside or just relaxing in the water in a comfortable pool lounger. However, getting your first pool can be overwhelming as there are a sea of different options, functionality and features.
Selecting the Type of Pool?
There are several factors that could influence the right type of pool for you.


When is an Above Ground the right choice?


- You're unsure about making the full commitment of an in ground pool and an above ground pool is a great way to test the waters before making a larger investment.

- You're the type that knows that you will only get a lot of use out of your pool when your kids are small but when they lose interest as they get older, you feel your pool days will be up and it is not something you will want to maintain at that point. An above ground pool is not permanent, is not expensive to get rid of and leaves very little to do with the property when you take it down.

- There is very limited budget, but you really want to get your family into pool to beat the heat and have make some summer family memories. Above ground pools are by far the least expensive option. Starting for only a few thousand dollars.

- Maybe your property size only permits an above ground.

- If you know you are moving in a few years.
When is an Inground the right choice?
- An inground is the most luxurious pool choice. It is installed fully in the ground, typically has a swallow and a deep end and it is also the most attractive type of pool. This is for the type that wants to build their dream back yard, host social get together's and spend time with the family doing amazing staycations.
- This pool is for the type that is in it for the long haul. (like myself, as my wife and I love the pool just as much as the kids and we couldn't really see ourselves without one now that we have one). It is about a certain lifestyle and a great one at that.
- This type of pool provides many more options and finishing's than an above ground. Pool decks, water falls, deck jets, fire-pits, sun ledges, extravagant pool entrances and on and on.
- Great option for those that are ready to invest in their backyard.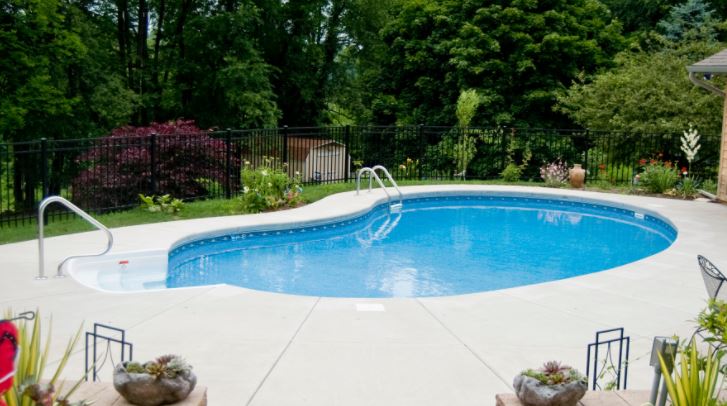 When is a sport pool the right choice?


Also known as a semi-inground or onground. This type of pool is not as common as an above ground or inground but it is quickly growing in popularity. The cool thing about this pool is it can be installed as an above ground, fully in the ground or partially inground and partially out of the ground.
- My wife and I choose this type of pool but installed all the way in the ground like an inground. Why? The difference between a sport and an inground is that there is no deep end in a sport pool and it is deeper than a typical inground swallow end. So rather than 3 ft swallow and 8 ft deep, we get 4ft all around. With two children under the age of 2, it is nice to know I can get my feet down anywhere in the pool. With 48 inches of water, you can still operate a slide with recommended minimum depth of water and let's face it, in my 40's my days of deep dives and cannonballs are pretty much over.
- Great for water basketball, or volleyball as both teams can get put feet down.
- When installed like an inground, can provide most of the same options as an inground (with exception of diving board)
- Great for those who have sloped back yards as they don't have to be installed fully in the ground.
- A great option for those that have a mid range budget.
Shapes and Sizes


Everyone wants to know what the best shape and size is for their yard. But the perfect fit for one family may not be the right choice for another. While this is very much a matter of personal preference, there are a few factors to consider.


- What is the purpose of the pool? Is it for exercise? Is it for swimming laps? Will it be used for games? Or will it just be a place to cool off?

- Do you want to maximize the swimming space in the yard, or are there other areas that require space, such as an outdoor kitchen, a garden, or a hot tub?
- What is more important to you, functionality or aesthetics? A rectangle pool works better with standard size pool covers, but perhaps a free form pool is more appealing to look at.
Theme & Design
Determining the overall theme and design for the project in the early planning stage is important. Are there existing features of the yard you want to incorporate in the finished product? Consideration should be given to the location of both the pool and the pool equipment. The pool should be positioned where is will receive the most sunshine, but also where it is convenient to access. Careful thought should be given to pathways, gardens or other landscaping features before the project commences. If you are struggling to come up with a plan yourself you might want to enlist the help of a landscape design architect. Having everything laid out in a finished plan will help you to visualize the end goal and be useful for other trades who are working on the site.

The Pool Entrance
With an above ground you are limited as to options, however with a fully installed in the ground sport pool or and inground pool, the entrance is something you really want to take the time to consider. Why? because it is something that cannot be changed later or would be very difficult and costly to change after the fact.

This is the one area I regret. We went with a drop-in step to save some money and had we have spent just a few thousand more we could have gotten a built-in fiberglass entrance. It looks way nicer, doesn't cut into your pool swimming space like a drop in does and doesn't have to be removed and stored every time you close your pool. So much nicer!
There a several beautiful built in options. Fiberglass, built in vinyl over steel or thermoplastic. Talk to your dealer about the different colors, types and selections. This is one area you need to be sure of before the build.
Lighting
Much like the pool entrance, built in pool lighting is not something you can't do later for an inground once it is already in the ground and buried. Lighting for night swimming can make for beautiful ambiance. That was my second regret as a first-time pool buyer. My thought was save money and skip the lights, but looking back, I wish I had done it because can't really do it now without it costing a lot of money and reconstruction of my pool.
If you do decide to skip on the lights, there are some external options by Game such as magnet lighting that will stick to the walls of the pool underwater that you can remove each time you swim or floating lights is another option.
Efficiency & Automation
Swimming pools can be very affordable to operate if designed correctly. Here are a few considerations:
- Variable speed pumps can save hundreds of dollars a year in electrical costs and will often pay for themselves within a couple of years.
- Automation is another way to add to the efficiency of your pool. With a smart device you can control the operation of water features, lighting and the temperate of your pool or hot water.
- Automatic safety covers have numerous benefits. Reduction of evaporation saves water and heating costs. Keeping rain out of the pool saves on chemical costs. And of course the safety factor is important for most families with children or pets.
- Solar panels can provide free heat for your pool and can save hundreds of dollars every season. If used in conjunction with another heat source such as a gas heater or a heat pump you can extend your swimming season while keeping heating costs to a minimum.
Winterizing
I wasted my time and money the first year with sand bags and a winter tarp like cover. Not only messy looking, a lot to store, unsafe if someone ever fell into it and the fact that you have to pump water off it continuously so it doesn't continue to sink into the pool. As well, wait until the spring when you get the whole thing off with the exception of those last few feet of cover and it flips over on you pouring all the mud, leaves and debris accumulated over the winter into your pool water. Now an even bigger challenge to get the water cleaned and balanced. FUN! NOT!
This winter being my second winter i got rid of all that mess and purchased a safety cover. WOW what a difference in the look, the maintenance, no more pumping water off the cover and it easy to take off come the spring. Save yourself a lot of headaches and money and go with a safety cover from the get go.
By guest writer Dave Brioux (first time pool buyer)
Pool & Spa Advocate
Director of Elite Pool Program
---
---