CHANGE YOUR LIFESTYLE, CHANGE YOUR WELLBEING
August 15/2020
What if you could bring all the elements of a resort into your own backyard? Whether it's a tropical pool with a tanning ledge, the therapeutic hot tubs of a Scandinavian style spa, or the warmth of the fire table on the patio at the Four Seasons, we can help you change your style of living to embrace these experiences in your everyday life.
Whether you work from a home office, commute to and from work, or stay home to care for the kids, being able to spend the end of the day in a setting that you love can make a world of difference to your wellbeing. Being able to unwind, destress, and relax are vital to good health. What better way to decompress than stepping into your own backyard haven, soaking in a hot tub, or plunging into your pool.
Studies also show that swimming has many health benefits. Time magazine published an article on the many benefits of swimming, and mentioned that it is unlike any other aerobic workout because of the density of water compared to air. Going for a swim on a regular basis can have a positive impact on your health and directly improve the way you feel about yourself.
Making this change in your style of living begins with exploring your options. That's precisely where our team can offer practical advice. We can help you discover the different styles of pools available, what products are the most trusted, and make the best use of our contacts in the backyard industry. In the end, our job is to create what you want and to help you reach that goal.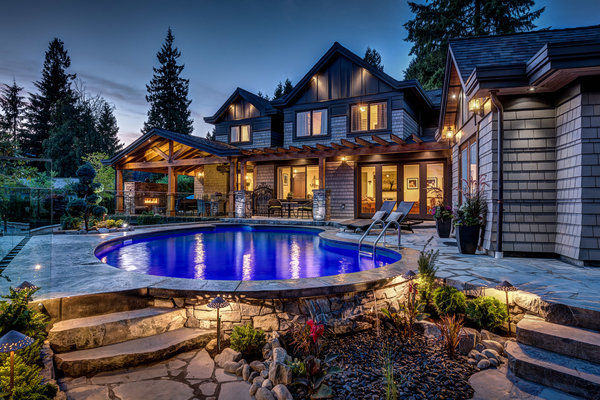 We've designed and built lap pools, games pools, and infinity pools for clients with different needs and ideas. While the swimming pool is often the focal point of the yard, there's many other factors to consider. Having a theme and feel to the backyard is important. Patio area and furniture, green space, traffic flow and convenience of use, as well as other amenities, should all be considered. All of the pools featured here have at least one thing in common. The starting point was a conversation with us. Contact our team today to change your lifestyle, and change your wellbeing.
---
---